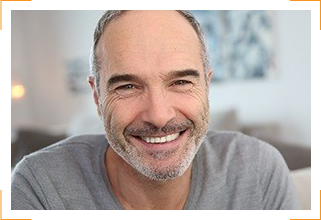 BENEFITS OF DENTAL IMPLANTS
Stability — A dental implant is actually a small titanium post that is placed directly into the jawbone to recreate the root structure of a tooth, and this can be used to support a restoration above the gum line. Because implants are anchored firmly within the jawbone, they can be trusted to stay in place no matter what a patient is eating.
Aesthetics — Topped with 100% white porcelain restorations and having no noticeable metal attachments, implants are able to blend seamlessly into absolutely any smile.
Jawbone Preservation — Implants are the only treatment that can stop and even reverse the bone loss that is common after tooth loss, which helps maintain the strength of the bite as well as the overall shape of the face.
Longevity — Dental implants are often able to last for 30 years or more and, in many cases, for the rest of a patient's life.