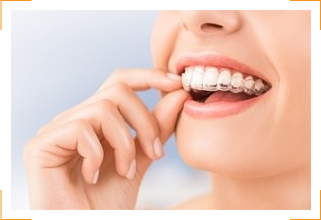 INVISALIGN® CLEAR ALIGNERS
Once we've evaluated your smile to make sure Invisalign is right for you, here are the basic steps involved in treatment:
We'll start by taking images and digital impressions to send to the Invisalign lab. Digital impressions are more accurate, and you won't have any messy or uncomfortable putty material to deal with.
It usually takes about three weeks for the lab to create your aligners, put the finishing touches on them and ship them to our office. Then, you'll return to officially begin treatment.
At this visit, we'll start by adding small, button-like "attachments" to your teeth, which are very discreet and made from tooth-colored filling material. These attachments help your trays sit firmly on your teeth so they can create movement in the right places.
Then we'll give you your first pair of aligners and go over all the instructions for how to wear and maintain them. You'll keep your trays in for at least 22 hours per day and move to your next set about every two weeks until you get your final result.
We'll determine the total number of aligner sets you need and how long your treatment will take before we get started. In fact, at Desert Vista Dental West, we can show you a virtual image of your results before you begin!