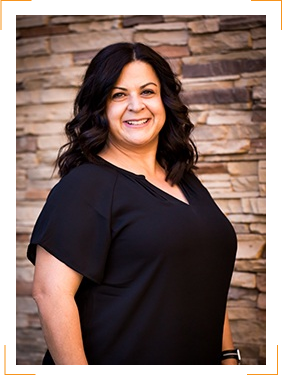 STACY
OFFICE MANAGER & INSURANCE/FINANCING
COORDINATOR
Stacy has been a part of the dental world for well over two decades now. She studied at the University of Phoenix and is certified in X-rays. The whole practice feels like family to her, including both the patients and her co-workers!
At home, Stacy has a young daughter with Down syndrome. Her hobbies include cooking, playing softball and hanging out with loved ones. She's also very passionate about crafting all sorts of items, including shirts, wreaths and wood signs, and she even likes redoing furniture! She and KJ (one of our dental hygienists) have actually known each other since they were kids, and they really enjoy working together here in the present day.